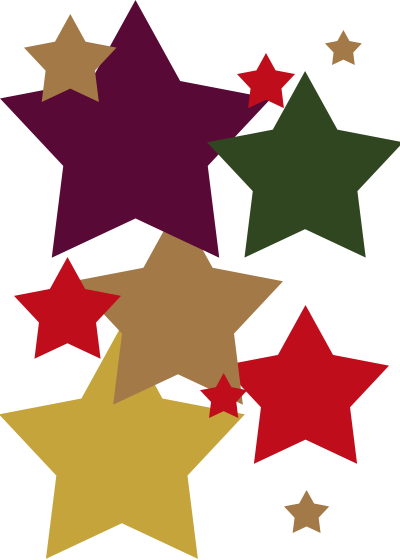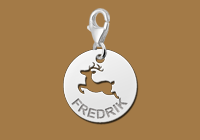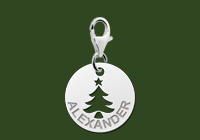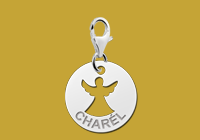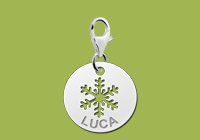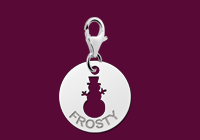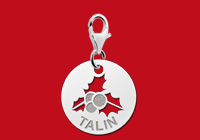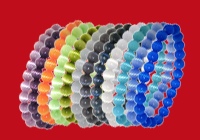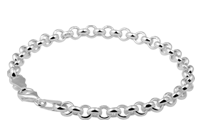 Name Christmas charms Christmas is not only the time of joy and laughter it's also the time of warm and wonderful memories. Make your happy holidays special with our brand new winter Christmas charm edition. Spread the holiday spirit with our lovely X-Mas Silver Charms. Are you looking for an unique present? Think of our lovely Silver Christmas charms. No matter which symbol you choose – an angel, reindeer Rudolph, Frosty the Snowman, a snowflake, the traditional Christmas Tree or a mistletoe – we have the right Silver Christmas Charm for everybody. Surprise your girlfriend with the traditional mistletoe at Christmas Eve – the kiss will be guaranteed. Our Silver Charm and other personalized jewellery make excellent presents under your Christmas tree. Huge choice in winter and Christmas charms, all of them with an engraved name.
Do you like to wear pretty Christmas or X-Mas winter jewellery with just one charm, or do you prefer a bracelet with loads of silver charms? It's completely up to you! Just find the perfect Christmas Charm for the whole family. We offer a huge selection of Christmas pendants and charms on which we engrave the name of your choice. These charms come with various symbols, such as an angel, a tree, reindeer Rudolph, a snowflake, a snowman and a mistletoe. Any combination is possible with our Christmas Charms
No matter what Christmas charm you choose, the silver charm is always easy to attach to a bracelet or necklace. Every Silver Winter charm fits different bracelets, thanks to the fishhook. This means you can wear your charms on your black bracelet today and on your purple or blue bracelet tomorrow. It's really handy! No matter what colour combination you are wearing, it is always easy to fasten your personalised Christmas charms to the matching bracelet. Xmas silver charms - A welcome Christmas gift for all ages
Our Christmas jewellery, such as winter charms and pendants, makes excellent X-Mas presents – or buy it just to pamper yourself. Our personalised x-Mas charms or pendants not only make great presents on Christmas, but are also perfect gifts for a birthday, to wish someone good luck or to say farewell to a pupil, teacher or colleague. Every mother, grandmother, girlfriend or daughter will be surprised by such a personal gift. Names on Christmas charms – make your X-Mas present personal
Grandmothers and mothers just love to wear the names of their grandchildren and children on silver charms, and every mother is proud to wear the names of her children on her bracelet. And your girlfriend or wife will be thrilled to see the name of her sweetheart on the Christmas charm. We can do all this for you – and much more. Winter Charms with or without a bracelet
We love to make the Christmas shopping easy for you, that's why we've got matching bracelets to make your special Christmas charm complete. With the fishhook that is attached to every silver charm, it is easy to put them to the silver jasseron bracelet (length 19 cm) or to a pearl bracelet, one with semiprecious stones or a cat's-eye bracelet. For children, we have a silver bracelet in our collection with a length of 16 cm. On a par with silver charms you buy from a jeweller
Our winter name charms are of very high grade sterling silver, the kind you will see at a jeweller's. So you don't even need to go out the door for your jeweller-quality Christmas shopping. You simply order your jewellery for Christmas, charm, bracelet or necklace in our online web shop. Rapid delivery and no shipping charges for silver charms
Within four working days, we have made your personalised Christmas charms and your order leaves our studio. The exact date of delivery depends on the postal service. It will arrive 5-8 days later.And when you order from us, you don't pay any shipping costs! Silver Christmas charm of superb quality at a low price
For a very low price, we supply fine quality silver and gold jewellery, comparable to the quality you will find at a jeweller's. All our silver jewellery is beautifully finished and is meant to be shown off! So browse our site, forget about stressful Xmas shopping and simply order your silver jewellery today – from us, your specialist in name jewellery!